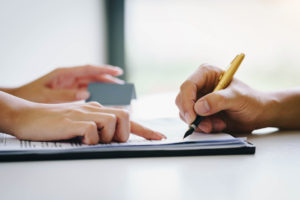 With the housing market in such a great place, homeowners expect the process of selling their home to be quick and easy. In reality, the selling process is still as stressful, time-consuming, and expensive as it always has been. Whatever the reason behind your move is, having a stress-free selling process is always the goal.
Before hitting the panic button, consider the following tips:
1. Understand the Reasons Why You are Selling Your Home
Selling the house you've lived in for so long can be emotional. There are so many memories, so many "firsts", so many good friends. Before speaking with a realtor or putting your home on the market, write down a list of the "why's" for selling your home. This will keep you on task and when things do get emotional, you can rely on this list to help remind you why you're doing this.
2. Plan Ahead
When putting your home on the market, it's important to always plan ahead. From unexpected repairs to your house selling faster than you were expecting, having a plan for anything that comes up is going to help avoid stress.
Are there repairs that will need to be made before the house is sold? How long will the repairs take? How will they be paid for?
What happens if the house takes too long to sell? Is there somewhere you can go if the house sells faster than expected?
What are any ongoing expenses that will need to be made if the house is on the market longer than expected?
What contingencies do you have?
By putting a plan in place for things that you aren't necessarily expecting, you'll be able to reduce stress and focus on getting your house sold and finding a new place to live.
3. Be Informed
Understanding the entire selling process, especially the lingo that your real estate agent will use, will help the process go smoother and eliminate additional questions.
Before putting your house on the market, ask your agent these questions:
What is the selling process?
How long on average does it take to sell a house of this size?
What are the costs associated with having the house on the market? How about costs associated with closing?
What is the right time to sell?
Asking as many questions as possible before your house is listed will help you map out the entire process, so you know what to expect. If you have questions along the way, ask them. This will help avoid any confusion and issues.
4. Be Realistic with the Housing Market
The individuals that are coming into your home to view it and hopefully put an offer in have every piece of data and information about your home, how much the homes in the area you live in typically sell for, and the current sales trends. These individuals are willing to pay a fair price for your home.
Do your research! Being clueless about the housing market and sales trends will allow lowball offers to come in. Stand your ground, know the facts and you'll get what you deserve for your home!
5. Work with a House Buyer
If you need to sell your house fast and want to avoid any of the issues that can arise when your house is on the market for a long stretch of time, selling to a house buyer such as The Garmour Group, you'll be able to sell your house as is. That means no open houses, not worrying about any repairs that need to be made, and no inspections, closing costs, or appraisals.
What are you waiting for? Give the team at The Garmour Group a call today at (781) 819-5100 today to get your cash offer!